Our Basic Approach to Corporate Governance
Based on our Group Philosophy of "To create a vibrant environment for all members of society" (Objectives to be Pursued by the Taisei Group(Goals)), we emphasize harmony between people and nature and aim to be a company that is trusted by society by contributing to the formation of social and industrial infrastructure.
In addition, based on the concept of the Taisei Spirit, which is represented by the commitment to "Active and Transparent Culture", "Value Creation" and "Evolution of Tradition", and the Group Action Guidelines (being the fundamental principles for actions and decision makings upon which the Taisei Group is to conduct itself, and which are to be strictly complied with by all members of the Taisei Group), we will contribute to society by providing excellent quality and services at a reasonable price in our core construction industry business and by solving various problems of our customers.
The Company's fundamental approach to corporate governance is to conduct the management and decision-making of the business in a swift, appropriate, fair and transparent manner in order to continue to grow as a corporation in a sustainable and socially responsible manner.
Please refer to our "Fundamental Corporate Governance Policy (PDF: 204KB)" on this website, which was established based on the above basic approach, responding to each principle of the Corporate Governance Code.
Corporate Governance Structure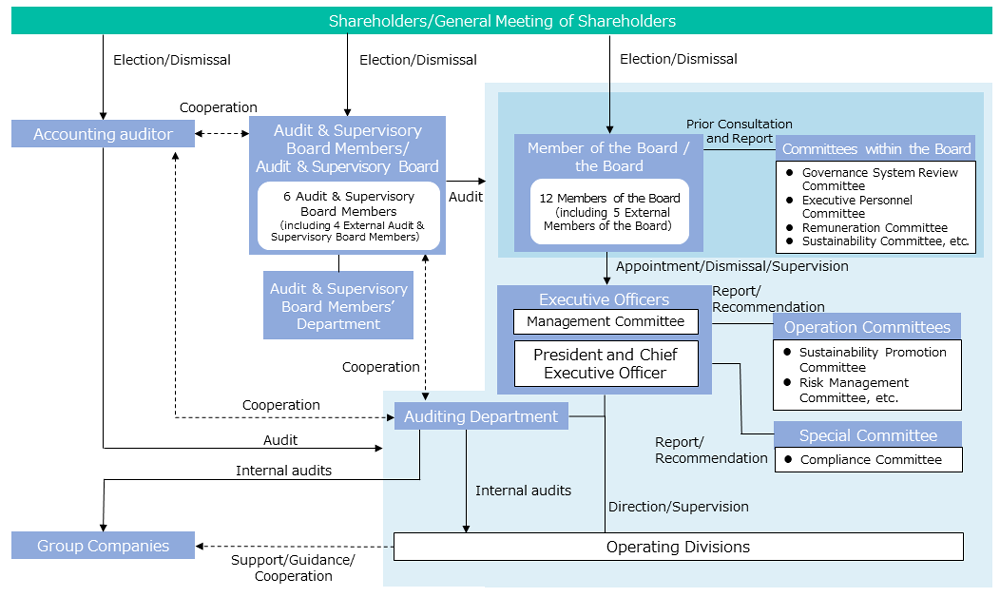 To view a PDF file, you need Adobe Reader, which is available at no charge from the website of Adobe Systems Incorporated.
*

Adobe Reader is a trademark of Adobe Systems Incorporated.