About the CDE3 (cubed) Company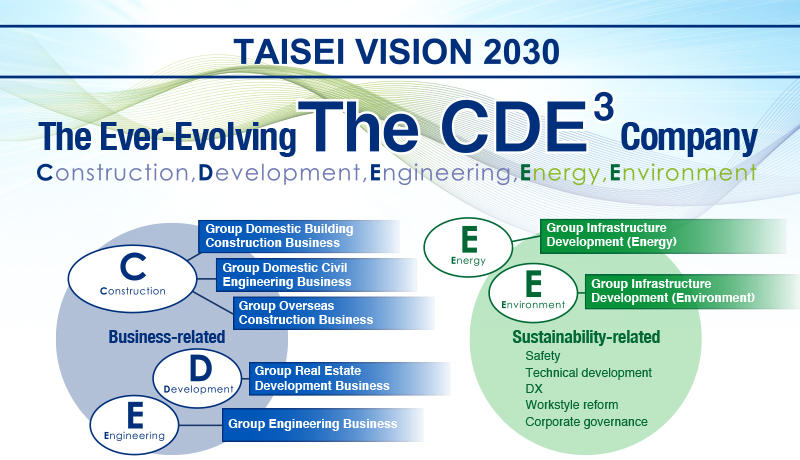 About the CDE3(cubed) Company
"CDE3 (cubed)" expresses the five business domains in which the Taisei Group makes particular efforts in order to realize "TAISEI VISION 2030*."
Construction ("C"): the business we take substantial role for the development of social infrastructure as the core business of the Group.
Development ("D"): the business we contribute to urban development by leveraging the comprehensive strengths of the Group, including urban redevelopment and real estate development, and PPP.
Engineering ("E"): the business we contribute to the optimization and efficiency of production-related facilities with its technological expertise cultivated over many years in pharmaceuticals and other fields.
Energy ("E") and Environment ("E"): the domains that accelerate the development of technologies and the establishment of systems to solve environmental and social issues through above business activities.
Taken together, these initials form "CDE3."
Our Group will continue to evolve as "The CDE3 Company" and contribute to the development of a resilient society where people can live affluent and cultural lives.
*

"TAISEI VISION 2030"
This is our Group's vision in 10 years which we aim at, formulated on the basis of the medium- to long-term external environment and structural changes, as well as the Taisei Group Philosophy and Taisei Spirit.
Major Companies of Taisei Group
Among the 28 group companies, major companies are listed by business segment.
Construction-related Businesses
Pavement work; equipment installation; condominium construction; detached house construction; renewals
Real Estate/Development Businesses
Building and condominium management; sales, leasing and brokerage of real estate; ownership and leasing of commercial facilities, etc.